Top Trends for Restaurant Interior Design
Restaurant interior design trends are always changing and it may be difficult for you to keep up with them. Some of the most common trends include; use of bold colors, natural materials, and textured walls. This includes creating beautiful dining spaces to still deliver on communal dining, and satisfy the modern trend toward industrial spaces which is becoming a big deal today. More natural-based designs; natural stone pavers or tiles are being preferred.
Guests will always be drawn to restaurants that keep up with emerging trends. Working with professional companies such as Dawnvale Group will make things easier for you. Consider the following interior design trends to improve the experience of your guests and your experience.
Use of Warm Colour Palettes
This is one of the leading trends in restaurant design. Warm colors look great on Instagram photos and they create a warm, homely feel. In the past, most restaurants preferred tropical green colors but that is changing.
Instead of the traditional white walls, restaurants are now using warm hues such as dark green and mustard. Your guests will enjoy an intimate experience. Mustard has become one of the most popular colors for interior design.
Greenery is fast becoming an important part of décor for both commercial and residential properties. Plant motifs, potted plants, and other green accessories are now being used in wallpaper, centerpieces, and tablecloths. Most restaurants now use bright greens that create an outdoor feel. This is a trend that allows your guests to escape the stress of city life and enjoy the tranquility in your restaurant.
The mantra 'reduce, reuse, recycle' is quickly affecting restaurant design practices. Most restaurants are now using recyclable materials to make their décor. Recyclable materials are also used in construction. Warm woods such as bamboo have become a popular choice for floor surfaces and wall coverings.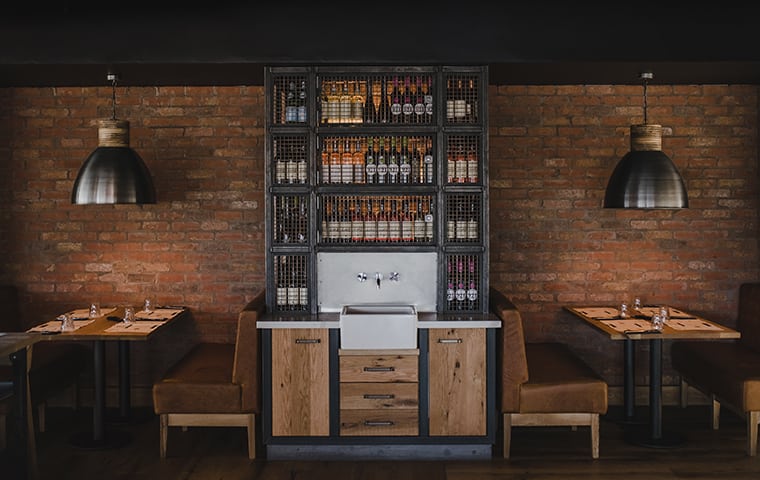 Multi-Functional Compact Furniture
Furniture designs have changed a lot in the past years. Plenty of restaurants are investing in furniture that is multi-functional and compact. Non-traditional seating and seating arrangements make it easy to deal with the ever-changing needs of a restaurant.
It is now common to find art pieces from local artists hanging in your favorite restaurant. While this may not sound like a new trend, its popularity is increasing fast.
It is now possible to find local art pieces even in mainstream restaurants. Art pieces may include; sculptures, fixtures, and paintings. This trend makes it easy for your guests to connect with you. It is also a great way to showcase local talent.
Boho patterns have become very popular. Rich textures and jewel tones have always been used in restaurants but they are becoming very popular. They brighten up the décor of your restaurant and create an inviting feel.
With all the emerging trends, it is clear that customers now want to dine at a restaurant with Instagram potential. If your restaurant does not look good, you will lose customers to more photogenic places. Make your dining experience immersive and engaging and try to make the dining areas warm and inviting. The food service industry is always changing so you must keep adjusting your interior design practices to suit emerging needs.