My Experience of Osaka Nights at ONI-Shangri-La Lounge Bar Dubai
We were delighted to get this opportunity and quickly accepted his invitation as it was once in a lifetime chance.
As we landed at Dubai's international airport we were both awed at the majestic sight befalling our eyes. My friend was at the arrivals area and after the usual pleasantries, we went ahead. The whole journey towards his home was an exhilarating experience.
Since that day was a Friday, there was one more surprise waiting for us. In the evening we were told by this friend that he would be taking us to a special place which would bedazzle us. He also wanted us to go there since he knows that I am a writer in the mystery genre so it would be more akin to my heart.
So after waiting eagerly in the evening, the moment came when he took us to one of the most contemporary Japanese restaurants and lounges in Dubai which is ONI-Shangri-La
japanese restaurant in Dubai. ONI is located on the 2nd Floor, Shangri-La Hotel, 108, Sheikh Zayed Road, Dubai, UAE, Telephone Number: +971 (0) 4 405 2333. ONI in Japanese folklore means as the 'one who is mysterious, one who wears a mask and one who can create luck'. ONI has become one of the most famous Japanese restaurants in a short time in Dubai and it is known to host a variety of themed events such as 'Nomikai, 'Iftar', 'Osaka Nights', and 'Yozakura Festival' on different days of the week. Each of these themes has a unique specialty attached to it. Since it was a Friday and ONI was announcing the grand launch of 'Osaka Nights', so our friend had selected the 'Osaka Nights theme' for us.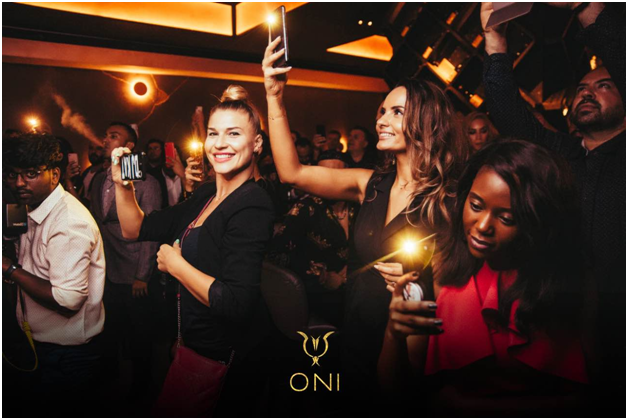 It is said that food is the key to everyone's heart. Which this chic Japanese bar and lounge have taken a step further by offering a secret menu to its diners who like a touch of mystery to their dining experience. Diners here are treated to traditional Japanese favorite food but with a futuristic twist. Until one experiences it, it is impossible to describe how futuristic the dish is. Accompanied by bright lights, loud music, secretive atmosphere, and taste-bud tingling cuisine; this in Osaka, Japan's most audacious creative capital and also home to the most authentic and unique cuisine in the country.
Here guests will be treated to a carefully curated secret set menu and drinks including traditional Japanese drinks with a futuristic twist. This unique menu embraces unconventional ingredients which results in an exciting culinary fusion of old meets new and east meets west.
'Osaka Nights Theme' has an interesting concept of injecting intrigue and adding a tinge of mystery in their menu. This playful and cryptic concept of leveraging the power of illusion for a captivating and immersive dining experience has to be seen to be believed.
This unique event takes place every Friday from 6:00 P.M. onwards. 'Osaka Nights' is reminiscent of the old Mystery stories and Hollywood movies just like Hitchcock movies or Raymond Chandler books where one could feel the tension building with each new moment. The most unique feature of 'Osaka Nights' is that the mystery is revealed only to those who have the key to this secret, mystifying dining concept.
Overall it was a great experience and we enjoyed it thoroughly. It would be an ideal place for any tourist in Dubai to get the experience of authentic Japanese culture and cuisine as never before.