Right after opening a brick-and-mortar location in June 2023, Bun B's Trill Burgers has become an absolute magnet in Houston. Customers stand in line waiting to sink their teeth into the iconic "OG burger" featuring smashed beef patties, American cheese, caramelized onions, and pickles, all accompanied by a generous serving of French fries. This burger joint snagged the prestigious title of Best Hamburger in America! The excitement doesn't stop there. Just recently, internet sensation Dr. Keshia Gaines visited this burger paradise and couldn't help but brag to her friends and fans about the mouthwatering masterpiece. "I love the OG burger!" Dr. Gaines said in a brief interview after eating the OG burger with fries and a Bun B orange soda.
The OG Burger: A Nostalgic Delight That Lives Up to Its Hype
The restaurant remained quite busy for the first month of opening. Dr. Keshia Gaines calls the burger "very good." The OG burger has custom Trill Sauce and does not have mustard or mayonnaise as an option. Each bite of these juicy, flavorful burgers takes you back to a time when simplicity reigned supreme. It's the taste of childhood memories, backyard cookouts, and carefree summer days, all wrapped up in a burger that speaks straight to your soul.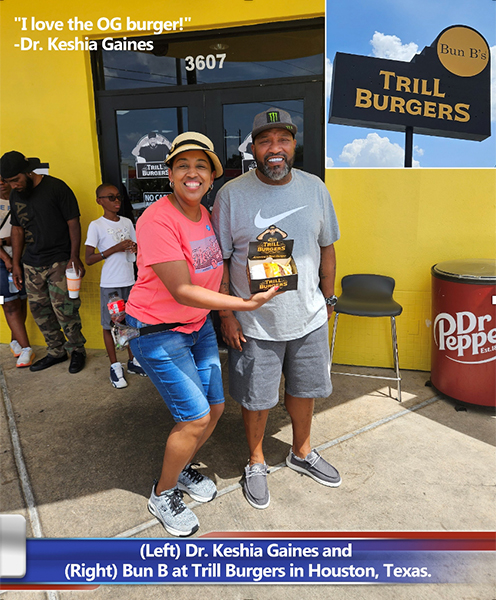 With the OG Burger leading the way, Trill Burgers also offers vegan burger combos as well. Also, let's not forget the drinks! Quench your thirst with oodles of options, including refreshing fountain drinks that come with the combo. You can purchase a Bun B labeled orange soda for a little more than $5 bucks.
Trill Burgers: America's Best Burger Experience
The seating in Trill Burgers is a mix of regular four-top tables with chairs and picnic tables. Be prepared for a line that wraps around the building, filled with eager customers patiently waiting to get their hands on these delicious burgers. Parking can be a challenge, as the limited space fills up quickly due to the overwhelming demand. But don't let that deter you from the ultimate burger experience that awaits inside. "It was a really fun restaurant!" said Dr. Keshia Gaines, who visited Trill Burgers for three days in a row during her July 2023 trip to Houston.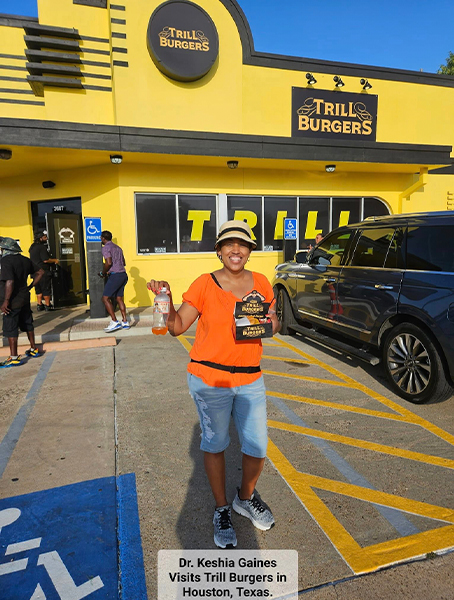 And it isn't just food that has everyone buzzing. Who knows, you might even have the chance to bump into Bun B himself and snap some epic selfies with the rap legend. The place has already welcomed big-time celebrities such as Mike Tyson, Busta Rhymes, Drake, Ludacris, Travis Scott, DJ Khaled, and more. Did you know that former heavyweight boxing champion Mike Tyson visited Trill Burgers on one of the days when Dr. Keshia Gaines was there? What celebrity will visit Trill Burgers next?
Trill Burgers is more than just a restaurant. It's a burger lover's paradise mixed with surprise celebrity guests, therefore your visit must be experienced firsthand. So, come on down, join the line, and prepare yourself for a fun burger experience that will leave you longing for more.
For more information about Trill Burgers visit:
For More Information About Dr. Keshia Gaines visit: