If you're a foodie looking for popular food in Santorini, then you're in for a treat! Santorini is home to some of the Best Family-Owned Restaurants offering delicious and unique dishes in all of Greece. Santorini boasts a cuisine for every palate, from the delectable moussaka and the traditional Greek salad to the juicy seafood and creamy fava. In order to maximize your gastronomic experience, this foodie's guide will provide you an overview of some of Santorini's most well-known eateries.
Seafood Delights
It should come as no surprise that seafood plays a significant role in Santorini's cuisine given that it is a volcanic island encircled by the Aegean Sea. Many Santorini restaurants serve fresh fish and shellfish served in a variety of ways.
Grilled octopus is a common seafood dish that is often served with a drizzle of olive oil and a dash of lemon juice. The octopus's soft, roasted meat is a tremendous pleasure for the palate. You should also keep an eye out for seafood meals with calamari, mussels, and sea bass.
For those who are feeling adventurous, a local delicacy is sea urchin. Most of the Best restaurants in Santorini offer this dish with a strong, briny flavor that is certainly an acquired taste, but one that is worth trying if you're up for a culinary adventure.
Whatever type of fish you decide to eat while visiting Santorini, you're sure to enjoy the fresh, tasty selections offered at the island's various eateries.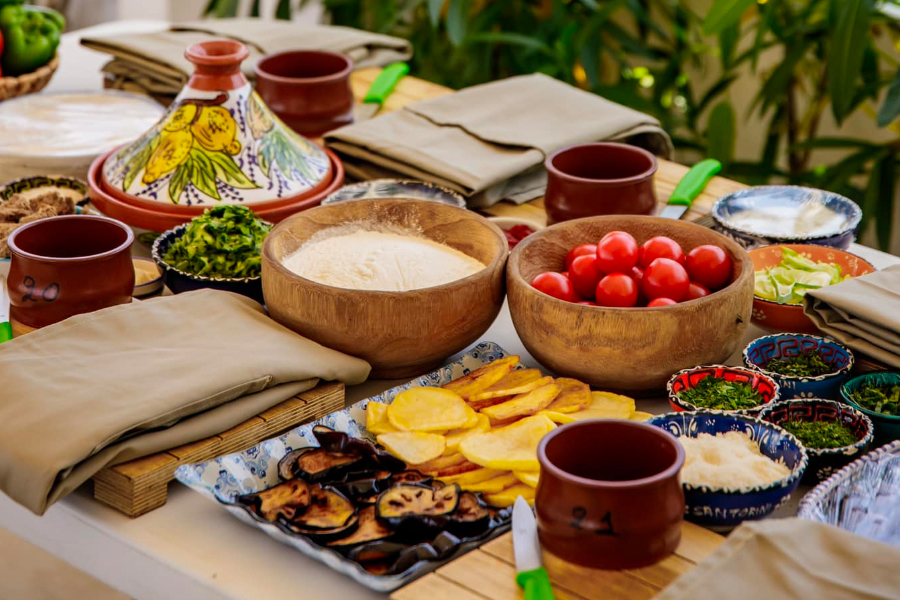 Traditional Greek Dishes
The variety of traditional Greek foods offered in the many restaurants in Santorini will gratify anyone who enjoys true Mediterranean cuisine. Here are some of the most well-liked selections to satisfy your palate:
Greek cuisine's signature dish, moussaka, is a casserole that layers potatoes, eggplant, and ground beef before being covered with a rich béchamel sauce. It is a warming and satisfying alternative that is ideal for a big lunch..
Dolmades –
These delicious stuffed grape leaves are a staple in Greek cuisine, and Santorini restaurants offer some of the best around. The filling is usually a mixture of rice, herbs, and minced meat, which is wrapped up in grape leaves and served hot or cold.
Souvlaki is the ideal type of street cuisine if you're looking for something a little more relaxed. It resembles a Greek kebab in that it is a skewered dish of meat (often chicken or pork) and veggies that is eaten with pita bread as a wrap. It's an easy-to-make, delicious snack that's great for on-the-go consumption.
Pastitsio –
Similar to moussaka, this is another baked pasta dish that's popular in Greek cuisine. It's made with ground beef, pasta, and béchamel sauce, and is usually served with a side of salad or roasted vegetables.
Overall, whether you're searching for a sit-down meal at a restaurant or a fast snack from a street seller, Santorini offers a wide variety of classic Greek foods to pick from. To experience this delectable food to its fullest, be sure to sample a few different dishes.