Looking for a fine dining while enjoying a champagne glass or dine surrounded by nature while celebrating your special occasion, or even planning a special event for a large group. Wilton Manors neighborhood has great options.
Bubbles & Pearls, Seafood and Steakhouse Restaurant, Pub & Bar
Located near Richardson Historic Park and Nature Preserve, Executive Chef Josie Smith Malave of Bravo TV's Top Chef opened her first restaurant in this great neighborhood. Have a seat at the bar and enjoy a great atmosphere. Indulge yourself a unique combination of champagne and a varied options of east coast and west coast oysters. Vegan options are also available. Taste the chef's selection of fresh ceviche and steamed mussels. Also the lamb chops, brick chicken and miso cauliflower steaks are a great option for meat lovers. A delicious cocktail menu will make a tasty combination with your meal, including a non-alcoholic menu. Wine list also Chef's Josie's choice. To complement your dinner try a real good key lime pie. You will enjoy a one of a kind experience! Service is fantastic! Live music Mondays. Happy Hour 5 pm – 7 pm with $1 oysters and $5 bubbly, beer or house wine glass.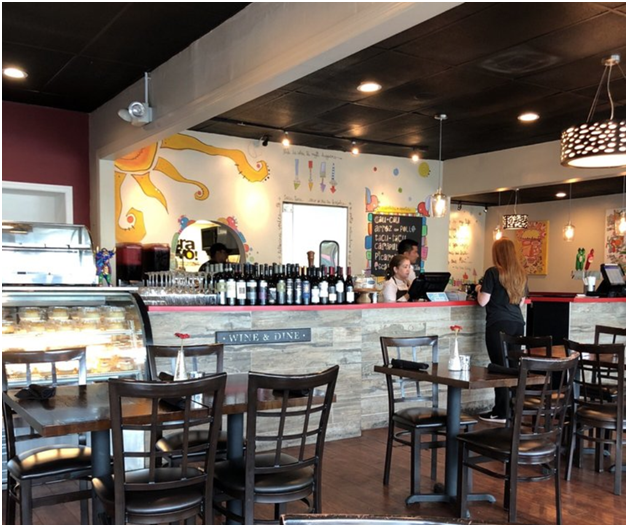 A traditional family owned peruvian cuisine with more than ten years serving peruvian delights. Located out of the beaten path in Wilton Manors, yet easy to find. For those peruvian food lovers, you will find the traditional dishes like ceviche with its very own tasty combination, crispy grilled octopus, a must try lomo saltado and quinoa risotto to say the least. If you go for lunch time you have to try the pork sandwich! Leave some space and try some tasty desserts. You may choose from chocolate cakes and doughnuts and other surprises. Vegetarian and vegan options as well as gluten free options are offered. A new cocktail menu featuring the famous Pisco Sour and great quinoa base beer. Other drinks made with fresh fruits and ingredients. Friendly staff and reasonable prices.
Located in the heart of the Wilton Yard, is the ideal place to eat traditional mexican food while enjoying a serene atmosphere surrounded by nature with a funky bohemian vibe like nowhere else in Wilton Manors area. An extensive menu will take you to your favorite mexican dishes. Check the weekly specials. Taco Tuesday is the favorite with tacos, margaritas and sangria for $2 all day. A special lunch menu is offered from 11:30 am to 3:00 pm. Perfect spot for a relaxing Brunch offered Saturday and Sunday with bottomless mimosas for $12 and margarita or sangria pitcher for $20.
Whether you want to celebrate your special occasion or have a holiday party, this is the perfect spot. You will love this place!
Ethos Greek Bistro, Greek and Meditarranea Restaurant,
Located in the heart of Wilton Manors, can't miss it. A cozy and beautiful place to have a unique mediterranean high quality dishes. Known as one of the most healthiest cuisines, Ethos offers it all. For lunch choose from a varied of platters, salad and pita wraps. Offering among others delicious hummus and eggplants. Falafel and stuffed grape leaves. Mini moussaka is a must. An array of entree dishes for all types of preferences such a delicious braised lamb and lamb chops, as well as a perfect bronzini among others. Can't go wrong on dessert like the very tasty baklava and cheesecakes. A varied cocktail menu with an extensive greek wine list and bubbles is available. Well-trained staff with a fabulous service and reasonable prices.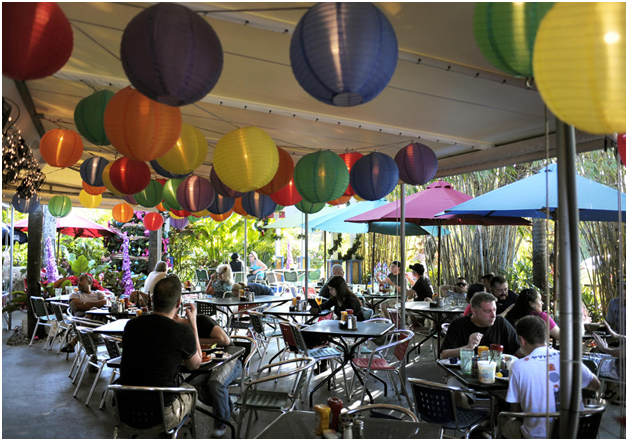 Rosie's Bar & Grill, American Bar
This place has a laid back atmosphere and a nice outdoor seating right in the heart of Wilton Manors Drive. Go for breakfast, lunch or dinner and you will find at Rosie's an extensive and creative menu to choose from and in large portions. Take your time in reading the menu. Try the excellent USDA prime beef burgers cooked to your preference. Jumbo fried coconut shrimp with Rosie's home-made Lady Marmalade dipping sauce. Nice selection of salad bowls and wraps. Also ask for Rosie's home-made soup. Check for the daily specials. Happy "Afternoon" Hours are Monday to Friday 11 am – 7 pm with 1⁄2 price premium well, basic bottles and draft beers and house wine. $1 off all cocktails, premium beers and premium wines. Great Sunday "Funday" Brunch 10 am – 2 pm. Live DJ's Thursday to Sunday.
Sozo Sushi Bar, Restaurant, Sushi, Seafoor, Pub & Bar
If you are a sushi lover, this is the place to go. It is a small family owned restaurant in Wilton Manors Drive. Menu is simple but has a real good selection of seafood with an original variety of sushi named rolls and delicious sashimi. Ask for the daily special. Open for dinner only, Sunday to Tuesday from 5:30 pm – 9:30 pm, Friday and Saturday 5:30 pm – 10:30 pm, Mondays closed. Good prices and comfortable atmosphere. No reservations accepted.
Wilton Creamery, Restaurant, Desserts
Very homely and relaxed atmosphere to enjoy from a variety of creamy ice cream. Lots of toppings to choose from, like white chocolate or coffee whipped cream to raspberries and blueberries. Try the ice cream nachos, they are very popular and delicious, or why not a banana split, a sundae or a milkshake. You will find also a good enough flavors for sorberts. It is also a pet friendly place, so treat your pet with ice cream for dogs, they will love it!! It has an upstairs area where you can sit back and take your time indulging a delicious ice cream at the same time with your dog. Gluten free options available. Fantastic service.
Dolce Salato Pizza & Gelato, Desserts, Pizzeria, Restaurant
Located in Wilton Manors Drive and owned by Italians chefs you can find a diverse authentic menu selection to enjoy with your family or your significant other. Choose from a thin crust tasty pizza with your selection of toppings, stuffed pies, paninis and wraps. Start with a traditional caprese salad, delicious. Also great selection of wines and italian beer that goes perfect with your meal. Last but not least complete your meal with a tasty gelato or a milkshake. Affordable prices. Food delivery is a big plus here. Open for Lunch, Dinner, Late Night. Vegetarian friendly and vegan options.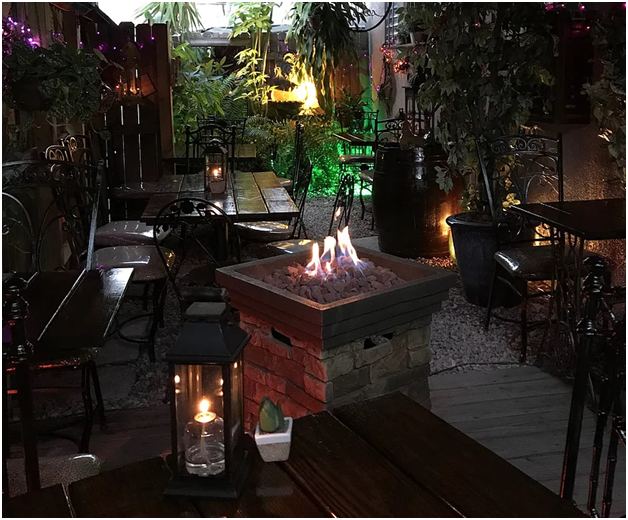 Le Patio, Italian Restaurant
Another great option at the Wilton Gardens with great selection of French and Italian cuisines. This place has been in business for over 10 years and has maintained the quality and service to its loyal customers. Seat back and enjoy a charming, relaxing and quiet atmosphere at this little gem. It has the perfect set up for a romantic experience. The chef will suggest the perfect glass of wine to pair your tasty meal. Start with the onion soup or a truffled baby beef wellington cooked to perfection. Other dishes such as the lobster ravioli, or bacon scallops are to die for. Ask for the menu weekly specials. Vegetarian friendly. Open for lunch and dinner. Attractive prices. Reservations recommended.